Equipment Sales
Testimonials
"Mr Mathes was beyond professional, especially in light of the issues we had with the changes that we had made. I would like to thank him and Tangent for the excellent job and look forward to next year."
Doug Cherry - Life Science Logistics

AP Dataweigh HR-1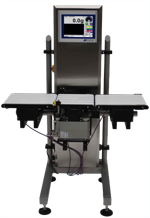 The HR-1 Checkweigher lives up to its high resolution, high speed distinction. The HR-1 unit is capable of speeds up to 250 peices per minute and can accurately* measure up to +/- 0.1 grams in most applications. Its integrated control system provides a logical interface for product setup and parameter configuration and can deliver real-time statistical data through various networking options. Features such as a 10-second calibration ensure the HR-1 is simple to use.
Applications:
Industrial, Quality Control

Inspection


Specifications:
Up to 250 products per minute

Up to 0.1 gram accuracy*

Precisely Machined for low vibration and noise

1'' Rollers and Choice of Belts

Up to 15 kg. Capacity

Stainless Steel or Powder Coated Mild Steel Construction

Belt Tensioning and Tracking without hand tools

Variable Speed Low Vibration

Brushless DC Motors set via menu

Digital Signal Processor (DSP) Filtered Load C

10 second Calibration

Customized Sizes to fit your conveyor line


Controller Features:
Stainless Steel IP65 Enclosure

Password Protected User Menu for categorizing users

2 RS-232 Serial Ports, Integrated Ethernet

Electro Magnetic Force Restoration Load Cell

Fully Digital push-button Front Panel Calibration

Bright Operator Touch Screen

Software Integrated RTOS Control System

Internal Timer Tasks measured in microseconds

Push-button Calibration

3 or 5 Zone Under/Over/Accept and Data Collection

Tangent News
We have a new never used (or opened) Western MCLA High Pressure Reserve Medical Manifold for sale...