Equipment Sales
Testimonials
"Thank you Tangent Labs!
Having just taken a new position with my company-I had a lot of challenges and even more questions. Tangent Labs has been a lifesaver for me! The services offered by your company have been extremely helpful. My calibrations, certifications and tracking system are now all up to date and easy to access! Thank you Tangent Labs!-But an even bigger Thank You to the people at Tangent Labs for all of their patience and help!"
Julann Main - American Keeper Corp.

AP Dataweigh CW Caseweigher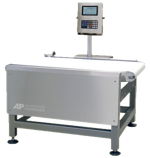 The CW Caseweigher provides a simple and economical way to conduct 100% product inspection. Built heavy duty and rugged, the CW Caseweigher is ready for almost any environment. From 1 lb. packages to 200 lb. cases, the flexible CW unit can handle your exact weighing application.
Applications:
Distribution, Packaging, Postal, Weight Verification

Industrial & Food Applications

Boxes, Pouches, Bundles, Bags


Specifications:
Up to 80 products per minute

Up to .01 lb. accuracy*

Various Belt Widths and Line Heights

Stainless Steel or Powder Coated Mild Steel Construction

Up to 200 lb. Capacity

60-second Calibration


Controller Features:
Stainless Steel IP65 Enclosure

Password Protected Parameter Menu

4 Programmable RS-232 Comm. Ports

4 I/O Modules (Expandable to 128)

Bright Operator Prompting LCD Display (665)

Fully Digital push-button Front Panel Calibration

Software-based Control System for Maximum flexibility

I/O timer - 10 ms

Push-button Calibration

3 or 5 Zone Sorting

Select Display Units in g, kg., oz., lbs.

Tangent News
We are excited to announce that as of January 2022, Tangent Labs is now a Transcat company!