Equipment Sales
Testimonials
"I would like to express to you that I believe your organization is one of the best I've ever worked with in providing quality service in a timely manner. Your employees are extremely professional and always willing to go above and beyond the call of duty to resolve any issues. Your staff is full of highly trained professionals and I'd like to personally say thank you for providing excellent service.
In closing I would just like to thank Tangent labs and its employees for providing exceptional service to Mossberg & Co. Quality Department. I would like to wish you good luck with your A2LA recertification but I'm sure you guys won't need it."
Bob Byers - Mossberg & Co.

AP Dataweigh AP-2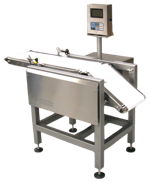 The AP-2 Checkweigher is the most versatile unit on the product line. With one, two or three-bed configurations, the AP-2 can checkweigh 1 lb. pouches to 25 lbs. boxes. Features such as the 30-second, push-button calibration make the all-purpose AP-2 simple to use.
Applications:
Food, Industrial

High Accuracy

Boxes, Pouches, Trays, Bags


Specifications:
Up to 100 products per minute

Up to 2 gram accuracy* (PC Model)

Built-in Auto Zero

Optional Belt Widths

Stainless Steel or Powder Coated Mild Steel Construction

Nominal Belt Height (Custom Heights available)

Packages up to 12'' L

Customized sizes to fit your conveyor line

60-second Calibration


Controller Features:
Standard Steel IP65 Enclosure

Password Protected Parameter Menu

4 Programmable RS-232 Comm. Ports (LCD model only)

1 Four I/O Modules (Expandable to 128)

Fully Digital push-button Front Panel Calibration

Bright Operator Prompting LCD Display (665) or Touch Screen

Software-based Control System

I/O Timer - 10 ms

3 or 5 Zone Under/Over/Accept

Select Display Units in g, kg., oz., lbs.

Various Rejection Options

Tangent News
We have a new never used (or opened) Western MCLA High Pressure Reserve Medical Manifold for sale...