Equipment Sales
Testimonials
"I just wanted to take a minute to thank you for your efforts with our LRK5. We got the board this morning and had it up and running this afternoon, huge relief. Really appreciate you working to have the board drop shipped to us and all the time you spent with trying to resolve the issue before we spent money on a new board."
Ray Young - Jaeger-Unitek Sealing Solutions

A&D Newton Series Balance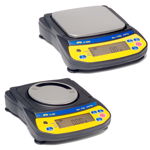 LCD display with backlight

Percentage and counting

USB or RS-232 interface optional

Battery (4 x AA not included) or AC power

Full digital calibration

Underhook weighing

Specific Gravity function

Check-weighing capability

Fast - 1 second response time

5 year warranty

Model
EJ-120 120g x 0.01g
EJ-200 200g x 0.01g
EJ-300 300g x 0.01g
EJ-410 410g x 0.01g
EJ-610 610g x 0.01g
EJ-1500 1500g x 0.1g
EJ-2000 2000g x 0.1g
EJ-3000 3000g x 0.1g
EJ-4100 4100g x 0.1g
EJ-6100 6100g x 0.1g
Tangent News
We have a new never used (or opened) Western MCLA High Pressure Reserve Medical Manifold for sale...