Equipment Sales
Testimonials
"Thank you Tangent Labs!
Having just taken a new position with my company-I had a lot of challenges and even more questions. Tangent Labs has been a lifesaver for me! The services offered by your company have been extremely helpful. My calibrations, certifications and tracking system are now all up to date and easy to access! Thank you Tangent Labs!-But an even bigger Thank You to the people at Tangent Labs for all of their patience and help!"
Julann Main - American Keeper Corp.

A&D Newton Series Balance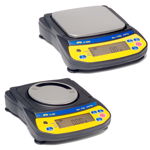 LCD display with backlight

Percentage and counting

USB or RS-232 interface optional

Battery (4 x AA not included) or AC power

Full digital calibration

Underhook weighing

Specific Gravity function

Check-weighing capability

Fast - 1 second response time

5 year warranty

Model
EJ-120 120g x 0.01g
EJ-200 200g x 0.01g
EJ-300 300g x 0.01g
EJ-410 410g x 0.01g
EJ-610 610g x 0.01g
EJ-1500 1500g x 0.1g
EJ-2000 2000g x 0.1g
EJ-3000 3000g x 0.1g
EJ-4100 4100g x 0.1g
EJ-6100 6100g x 0.1g
Tangent News
We have a new never used (or opened) Western MCLA High Pressure Reserve Medical Manifold for sale...