Equipment Sales
Testimonials
"We have been using Tangent Labs for calibration for close to 10 years now. I can always rely on Tangent to remind me when my gages require calibration. Trust me; with as many gages we use, this is a valuable service! They have always been on the spot when I have questions or need advice, and are always friendly and knowledgeable."
Audrey Watterson - Myers Spring Co.

A&D Newton Series Balance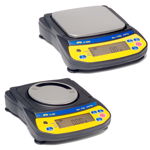 LCD display with backlight

Percentage and counting

USB or RS-232 interface optional

Battery (4 x AA not included) or AC power

Full digital calibration

Underhook weighing

Specific Gravity function

Check-weighing capability

Fast - 1 second response time

5 year warranty

Model
EJ-120 120g x 0.01g
EJ-200 200g x 0.01g
EJ-300 300g x 0.01g
EJ-410 410g x 0.01g
EJ-610 610g x 0.01g
EJ-1500 1500g x 0.1g
EJ-2000 2000g x 0.1g
EJ-3000 3000g x 0.1g
EJ-4100 4100g x 0.1g
EJ-6100 6100g x 0.1g
Tangent News
We have a new never used (or opened) Western MCLA High Pressure Reserve Medical Manifold for sale...