Equipment Sales
Testimonials
"I am pleased to recommend Tangent Labs LLC to anyone in need of a highly professional and competent ISO-17025 registered firm. We have found Tangent to be a valuable partner and resource in our ongoing requirement to operate a QMS with reliable measurement data.
We have found their people to be highly competent and personable, their help- with metrology issues always available, and their pricing reasonable for the value provided.
After calibration activity is concluded, the QMS relies on the reports of that activity. Tangent Labs excels in this matter.; Their color reports are clear, accurate, and a joy to read for anyone concerned with measurement uncertainty and IM&TE status. This ISO-17025 certified lab also adds value-added service by making those reports accessible to us on their website in a secure manner. It is a very nice feeling to have this "back-up status" when we undergo our annual ISO/TS 16949 audit.
In the event we are in need of equipment, we know we can rely on Tangent for help in selecting the right equipment for the right measurement to assure quality.
I strongly recommend Tangent Labs LLC to anyone in search of a customer-oriented, internationally certified, calibration services firm."
Joseph T. Druecker - Heartland Automotive LLC

A&D HV-G Series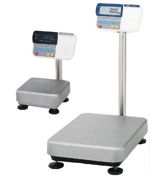 Comparator for setting high and low weight targets

Optional comparator buzzer for selected settings

Setpoint control for simple batching

Tilting meter head for best viewing angle

RS-232C interface to connect with printer or PC

Counting and percent functions

M+ function for totaling weighing data

Water and dust resistant

The HV-G Series NTEP platform scales provide counting, percentage, and comparator functions. These versatile scales are useful for packaging, shipping, pharmaceutical, and other applications.

HV-15KGL / GV
HV-60KGL / GV
HV-200KGL / GV
Capacity (kg)
15
6
3
60
30
15
220
150
60
Resolution (kg)
0.005
0.002
0.001
0.02
0.01
0.005
0.1
0.05
0.02
Capacity (lb)
30
15
6
150
60
30
500
300
150
Resolution (lb)
0.01
0.005
0.002
0.05
0.02
0.01
0.2
0.1
0.05
Capacity (oz)
480
240
96
2400
960
480
8000
4800
2400
Resolution (oz)
0.2
0.1
0.05
1
0.5
0.2
5
2
1
Capacity (lb-oz)
30
-
-
-
-
-
-
Resolution (lb-oz)
0.1
-
-
-
-
-
-
Max. Count
15,000 pieces
12,000 pieces
11,000 pieces
Operating Temp.
-10�C ~ 40�C / 14� F ~ 104� F
Linearity
�5g
�2g
�1g
�20g
�10g
�5g
�100g
�50g
�25g
PanSize (mm)
250(W) x 250(D) mm
330(W) x 424(D) mm
390(W) x 530(D) mm
Pan Size (inch)
9.8(W) x 9.8(D) inches
12.95(W) x 16.69(D) inches
15.35(W) x 20.87(D) inches
Physical Dim. (mm)
275(W) x 474(D) x 368(H)
330(W) x 621(D) x 771(H)
390(W) x 712(D) x 773(H)
Physical Dim. (inch)
10.8(W) x 18.7(D) x 14.5(H)
13.0(W) x 24.4(D) x 30.4(H)
15.4(W) x 28.0(D) x 30.4(H)
Power
GL Series: AC Adapter or 6 'D" size alkaline batteries (600 hours)
GV Series: AC Mains only
Weight (approx.)
6 kg / 13.2 lb
11 kg / 24.3 lb
17 kg / 37.5 lb
Standard Accessories
AC Adapter (for GL Series only), Display Cover and Manual
Tangent News
We have a new never used (or opened) Western MCLA High Pressure Reserve Medical Manifold for sale...