Equipment Sales
Testimonials
"Tangent Labs was a logical choice to send equipment to be calibrated when our Lab was faced with a large amount of equipment to have calibrated. Our Lab had used Tangent Labs before and were always pleased with their service and caliber of work. It was a definite plus that they would pickup our equipment because shipping delicate equipment is always a concern. Their personnel are always courteous and prompt. Their turnaround time is fantastic and our equipment is always handled with care. They are able to accommodate priorities when necessary. Our Lab will continue to send equipment to Tangent Labs because they have earned the trust through the work that they perform and their customer service. There would be no hesitation on recommending Tangent Labs to anyone."
Lee Ann Kelly - Computer Science Corporation

A&D HV-G Series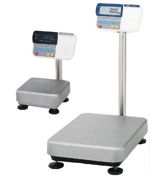 Comparator for setting high and low weight targets

Optional comparator buzzer for selected settings

Setpoint control for simple batching

Tilting meter head for best viewing angle

RS-232C interface to connect with printer or PC

Counting and percent functions

M+ function for totaling weighing data

Water and dust resistant

The HV-G Series NTEP platform scales provide counting, percentage, and comparator functions. These versatile scales are useful for packaging, shipping, pharmaceutical, and other applications.

HV-15KGL / GV
HV-60KGL / GV
HV-200KGL / GV
Capacity (kg)
15
6
3
60
30
15
220
150
60
Resolution (kg)
0.005
0.002
0.001
0.02
0.01
0.005
0.1
0.05
0.02
Capacity (lb)
30
15
6
150
60
30
500
300
150
Resolution (lb)
0.01
0.005
0.002
0.05
0.02
0.01
0.2
0.1
0.05
Capacity (oz)
480
240
96
2400
960
480
8000
4800
2400
Resolution (oz)
0.2
0.1
0.05
1
0.5
0.2
5
2
1
Capacity (lb-oz)
30
-
-
-
-
-
-
Resolution (lb-oz)
0.1
-
-
-
-
-
-
Max. Count
15,000 pieces
12,000 pieces
11,000 pieces
Operating Temp.
-10�C ~ 40�C / 14� F ~ 104� F
Linearity
�5g
�2g
�1g
�20g
�10g
�5g
�100g
�50g
�25g
PanSize (mm)
250(W) x 250(D) mm
330(W) x 424(D) mm
390(W) x 530(D) mm
Pan Size (inch)
9.8(W) x 9.8(D) inches
12.95(W) x 16.69(D) inches
15.35(W) x 20.87(D) inches
Physical Dim. (mm)
275(W) x 474(D) x 368(H)
330(W) x 621(D) x 771(H)
390(W) x 712(D) x 773(H)
Physical Dim. (inch)
10.8(W) x 18.7(D) x 14.5(H)
13.0(W) x 24.4(D) x 30.4(H)
15.4(W) x 28.0(D) x 30.4(H)
Power
GL Series: AC Adapter or 6 'D" size alkaline batteries (600 hours)
GV Series: AC Mains only
Weight (approx.)
6 kg / 13.2 lb
11 kg / 24.3 lb
17 kg / 37.5 lb
Standard Accessories
AC Adapter (for GL Series only), Display Cover and Manual
Tangent News
We are excited to announce that as of January 2022, Tangent Labs is now a Transcat company!