Equipment Sales
Testimonials
"I am pleased to recommend Tangent Labs LLC to anyone in need of a highly professional and competent ISO-17025 registered firm. We have found Tangent to be a valuable partner and resource in our ongoing requirement to operate a QMS with reliable measurement data.
We have found their people to be highly competent and personable, their help- with metrology issues always available, and their pricing reasonable for the value provided.
After calibration activity is concluded, the QMS relies on the reports of that activity. Tangent Labs excels in this matter.; Their color reports are clear, accurate, and a joy to read for anyone concerned with measurement uncertainty and IM&TE status. This ISO-17025 certified lab also adds value-added service by making those reports accessible to us on their website in a secure manner. It is a very nice feeling to have this "back-up status" when we undergo our annual ISO/TS 16949 audit.
In the event we are in need of equipment, we know we can rely on Tangent for help in selecting the right equipment for the right measurement to assure quality.
I strongly recommend Tangent Labs LLC to anyone in search of a customer-oriented, internationally certified, calibration services firm."
Joseph T. Druecker - Heartland Automotive LLC

A&D HR Series Balance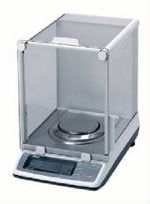 The HR Series electronic laboratory balances provide many remarkable features at affordable prices. These easy-to-use analytical balances are durable, adapt to your environment, and provide great flexibility and resolution.
Large Weighing Chamber holds up to a 250mm volumetric flask

Wide Angle LCD Display

Good Laboratory Practices [GLP] Software

Multi-Functional Weighing: %, Counting, Grams, mg. oz ozt, dwt, ct, mom, GN, t, TL

Separate, Clearly Marked Operating Keys

Full Range Tare

Mode Key

Range Key: Suppresses least significant digit for faster speed & better stability when required

Percentage Function

Counting Function: Maximizes accuracy with Automatic

Counting Accuracy Improvement Function [ACAI]

Push Button Calibration

Front Key Selectable Weighing Filters: Ensures fast & stable results in all environmental conditions without switching off the balance

Digital Tare

Under hook

Outputs Serial Number of the Balance: Identifies stolen balance & greatly reduces capital goods inventory control

Enter balance's ID Number: For GLP records & identifying the balance

System Diagnosis: Identifies Overload, Weighing Pan Error, Power Failure, Digital Tare Error, Calibration Errors & Low Battery

Body & frame constructed of extra strong die-cast aluminum alloy

Optional Battery Pack

| MODEL | HR-60 | HR-120 | HR-200 | HR-202i | HR-300 |
| --- | --- | --- | --- | --- | --- |
| � | � | � | � | � | � |
| Capacity | 60 x 0.1 mg | 120 x 0.1 mg | 210 x 0.1 mg | 51/220 g x 0.01/0.1 mg (Dual range) | 300 x 0.1 mg |
Tangent News
We have a new never used (or opened) Western MCLA High Pressure Reserve Medical Manifold for sale...