Equipment Sales
Testimonials
"I am pleased to recommend Tangent Labs LLC to anyone in need of a highly professional and competent ISO-17025 registered firm. We have found Tangent to be a valuable partner and resource in our ongoing requirement to operate a QMS with reliable measurement data.
We have found their people to be highly competent and personable, their help- with metrology issues always available, and their pricing reasonable for the value provided.
After calibration activity is concluded, the QMS relies on the reports of that activity. Tangent Labs excels in this matter.; Their color reports are clear, accurate, and a joy to read for anyone concerned with measurement uncertainty and IM&TE status. This ISO-17025 certified lab also adds value-added service by making those reports accessible to us on their website in a secure manner. It is a very nice feeling to have this "back-up status" when we undergo our annual ISO/TS 16949 audit.
In the event we are in need of equipment, we know we can rely on Tangent for help in selecting the right equipment for the right measurement to assure quality.
I strongly recommend Tangent Labs LLC to anyone in search of a customer-oriented, internationally certified, calibration services firm."
Joseph T. Druecker - Heartland Automotive LLC

A & D HC-i Economy Series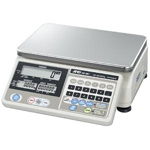 Features
Navigation system with LED for easy and simple operation

High internal resolution 1/600,000 (HC-3Ki / 6Ki / 30Ki) and 1/750,000 (HC-15Ki)

Weighing display resolution 6000 (HC-3Ki / 6Ki / 30Ki) and 7500 (HC-15Ki)

Automatic Counting Accuracy Improvement (ACAI)

Audible Weighing Assist beeping function (AWA)

Detachable display unit

Comparator function with "HI", "OK", "LO" display

Optional Sealed Lead Acid (SLA) rechargeable battery

Accumulation function

Up to 99 unit weights ID memory function

Universal Flex Coms function

Auto-power OFF function

Full Digital Calibration function

Large LCD display (height - 18.6mm for pieces / 11.4mmt for weight and unit weight)

Simple operation mode

Large stainless steel weighing pan ( 300 x 210 mm / 11.8 x 8.3 inches)

Optional Interface function RS-232C and Relay output

Options
HC-02i Sealed Lead Acid Battery (6V, 4Ah)

HC-03i RS-232C

HC-04i RS-232C + Relay output

HC-08i Extension cable (2m)

Specifications
Model
Min. Unit Weight
(Normal Mode)
Min. Unit Weight
(Fine Mode)
Capacity
Resolution
Pan Size (mm)
W x D
HC-3Ki
0.1g
0.005 g
3 kg
0.0005 k g
300 x 210
HC-6Ki
0.2g
0.01 g
6 kg
0.001 kg
HC-15Ki
0.4g
0.02 g
15 kg
0.002 kg
HC-30Ki
1g
0.05 g
30 kg
0.005 kg
Tangent News
We have a new never used (or opened) Western MCLA High Pressure Reserve Medical Manifold for sale...