Equipment Sales
Testimonials
"Your representative came in today to calibrate and I asked if he could do our chart recorders too. He was great and accommodated what I needed for the audit. We also got his annual food safety training completed. Great guy!"
Lisa Hughes - Bremner Food Group

A & D HC-i Economy Series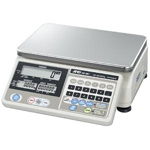 Features
Navigation system with LED for easy and simple operation

High internal resolution 1/600,000 (HC-3Ki / 6Ki / 30Ki) and 1/750,000 (HC-15Ki)

Weighing display resolution 6000 (HC-3Ki / 6Ki / 30Ki) and 7500 (HC-15Ki)

Automatic Counting Accuracy Improvement (ACAI)

Audible Weighing Assist beeping function (AWA)

Detachable display unit

Comparator function with "HI", "OK", "LO" display

Optional Sealed Lead Acid (SLA) rechargeable battery

Accumulation function

Up to 99 unit weights ID memory function

Universal Flex Coms function

Auto-power OFF function

Full Digital Calibration function

Large LCD display (height - 18.6mm for pieces / 11.4mmt for weight and unit weight)

Simple operation mode

Large stainless steel weighing pan ( 300 x 210 mm / 11.8 x 8.3 inches)

Optional Interface function RS-232C and Relay output

Options
HC-02i Sealed Lead Acid Battery (6V, 4Ah)

HC-03i RS-232C

HC-04i RS-232C + Relay output

HC-08i Extension cable (2m)

Specifications
Model
Min. Unit Weight
(Normal Mode)
Min. Unit Weight
(Fine Mode)
Capacity
Resolution
Pan Size (mm)
W x D
HC-3Ki
0.1g
0.005 g
3 kg
0.0005 k g
300 x 210
HC-6Ki
0.2g
0.01 g
6 kg
0.001 kg
HC-15Ki
0.4g
0.02 g
15 kg
0.002 kg
HC-30Ki
1g
0.05 g
30 kg
0.005 kg
Tangent News
We are excited to announce that as of January 2022, Tangent Labs is now a Transcat company!