Equipment Sales
Testimonials
"Tangent Labs was a logical choice to send equipment to be calibrated when our Lab was faced with a large amount of equipment to have calibrated. Our Lab had used Tangent Labs before and were always pleased with their service and caliber of work. It was a definite plus that they would pickup our equipment because shipping delicate equipment is always a concern. Their personnel are always courteous and prompt. Their turnaround time is fantastic and our equipment is always handled with care. They are able to accommodate priorities when necessary. Our Lab will continue to send equipment to Tangent Labs because they have earned the trust through the work that they perform and their customer service. There would be no hesitation on recommending Tangent Labs to anyone."
Lee Ann Kelly - Computer Science Corporation

A & D HC-i Economy Series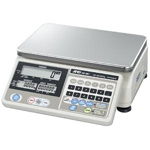 Features
Navigation system with LED for easy and simple operation

High internal resolution 1/600,000 (HC-3Ki / 6Ki / 30Ki) and 1/750,000 (HC-15Ki)

Weighing display resolution 6000 (HC-3Ki / 6Ki / 30Ki) and 7500 (HC-15Ki)

Automatic Counting Accuracy Improvement (ACAI)

Audible Weighing Assist beeping function (AWA)

Detachable display unit

Comparator function with "HI", "OK", "LO" display

Optional Sealed Lead Acid (SLA) rechargeable battery

Accumulation function

Up to 99 unit weights ID memory function

Universal Flex Coms function

Auto-power OFF function

Full Digital Calibration function

Large LCD display (height - 18.6mm for pieces / 11.4mmt for weight and unit weight)

Simple operation mode

Large stainless steel weighing pan ( 300 x 210 mm / 11.8 x 8.3 inches)

Optional Interface function RS-232C and Relay output

Options
HC-02i Sealed Lead Acid Battery (6V, 4Ah)

HC-03i RS-232C

HC-04i RS-232C + Relay output

HC-08i Extension cable (2m)

Specifications
Model
Min. Unit Weight
(Normal Mode)
Min. Unit Weight
(Fine Mode)
Capacity
Resolution
Pan Size (mm)
W x D
HC-3Ki
0.1g
0.005 g
3 kg
0.0005 k g
300 x 210
HC-6Ki
0.2g
0.01 g
6 kg
0.001 kg
HC-15Ki
0.4g
0.02 g
15 kg
0.002 kg
HC-30Ki
1g
0.05 g
30 kg
0.005 kg
Tangent News
We have a new never used (or opened) Western MCLA High Pressure Reserve Medical Manifold for sale...