Equipment Sales
Testimonials
"Thank you Tangent Labs!
Having just taken a new position with my company-I had a lot of challenges and even more questions. Tangent Labs has been a lifesaver for me! The services offered by your company have been extremely helpful. My calibrations, certifications and tracking system are now all up to date and easy to access! Thank you Tangent Labs!-But an even bigger Thank You to the people at Tangent Labs for all of their patience and help!"
Julann Main - American Keeper Corp.

A&D GR Series Balance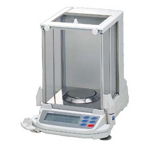 Requires 30% less footprint space

Fully Automatic Self-Calibration

One Touch Calibration

Easy Access Door

Splash Proof Keyboard and Display

Data Memory Function--Store up to 200 measurements

Two Layer Housing Construction

Advanced Stabilization Software

Automatic Adjustable Environment Setting

Multiple Weighing UnitsGLP Compliance

Standard RS-232C allows bidirectional communication with PC

Standard Underhook

Quick Reference Card

Bundled with A&D's new WinCT Software

Model
GR-120 120g x 0.0001g
GR-200 210g x 0.0001g
GR-300 300g x 0.0001g
GR-202 210g x 0.0001g / 42g x 0.00001
Tangent News
We are excited to announce that as of January 2022, Tangent Labs is now a Transcat company!