Equipment Sales
Testimonials
"I just wanted to let you know that I was very impressed with your technicians today. They were very professional and polite. Thanks again!"
Alyssa Mahlke - Endocyte Inc.

A&D FZ-iWP Series Balance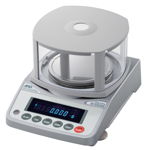 Internal Calibration

IP65 Water proof/Dust Proof

Compact SHS (Super Hybrid Sensor) 1 Second Stabilization

Multiple Weighing Units (g, oz, lb, lb-oz, ozt, ct, mom, dwt, GN, tl, tol, mes, pcs, % and MLT)

SCF-Statistical Calculation Function Quick USB Interface (FXi-02)

Standard RS-232C Interface

Comparator Function

LAN-Ethernet Interface (FXi-08) with WINCT-Plus Software

5 Year Warranty

Model
FZ-120iWP 122g x 0.001g
FZ-200iWP 220g x 0.001g
FZ-300iWP 320g x 0.001g
FZ-1200iWP 1220g x 0.01g
FZ-2000iWP 2200g x 0.01g
FZ-3000iWP 3200g x 0.01g
Tangent News
We have a new never used (or opened) Western MCLA High Pressure Reserve Medical Manifold for sale...