Equipment Sales
Testimonials
"Tangent Labs was quick to respond to an urgent calibration need. Their technicians arrived at the appointed time, were neat in appearance and were very professional and knowledgeable.
Calibration documents are complete and easy to understand. Tangent will be getting all of our outsourced calibration business in the future."
Cindy Berghoff - Precision Plastics

A&D FZ-iWP Series Balance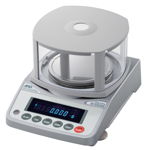 Internal Calibration

IP65 Water proof/Dust Proof

Compact SHS (Super Hybrid Sensor) 1 Second Stabilization

Multiple Weighing Units (g, oz, lb, lb-oz, ozt, ct, mom, dwt, GN, tl, tol, mes, pcs, % and MLT)

SCF-Statistical Calculation Function Quick USB Interface (FXi-02)

Standard RS-232C Interface

Comparator Function

LAN-Ethernet Interface (FXi-08) with WINCT-Plus Software

5 Year Warranty

Model
FZ-120iWP 122g x 0.001g
FZ-200iWP 220g x 0.001g
FZ-300iWP 320g x 0.001g
FZ-1200iWP 1220g x 0.01g
FZ-2000iWP 2200g x 0.01g
FZ-3000iWP 3200g x 0.01g
Tangent News
We are excited to announce that as of January 2022, Tangent Labs is now a Transcat company!