Equipment Sales
Testimonials
"Thank you Tangent Labs!
Having just taken a new position with my company-I had a lot of challenges and even more questions. Tangent Labs has been a lifesaver for me! The services offered by your company have been extremely helpful. My calibrations, certifications and tracking system are now all up to date and easy to access! Thank you Tangent Labs!-But an even bigger Thank You to the people at Tangent Labs for all of their patience and help!"
Julann Main - American Keeper Corp.

A&D FZ-iWP Series Balance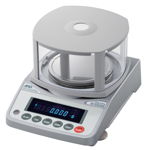 Internal Calibration

IP65 Water proof/Dust Proof

Compact SHS (Super Hybrid Sensor) 1 Second Stabilization

Multiple Weighing Units (g, oz, lb, lb-oz, ozt, ct, mom, dwt, GN, tl, tol, mes, pcs, % and MLT)

SCF-Statistical Calculation Function Quick USB Interface (FXi-02)

Standard RS-232C Interface

Comparator Function

LAN-Ethernet Interface (FXi-08) with WINCT-Plus Software

5 Year Warranty

Model
FZ-120iWP 122g x 0.001g
FZ-200iWP 220g x 0.001g
FZ-300iWP 320g x 0.001g
FZ-1200iWP 1220g x 0.01g
FZ-2000iWP 2200g x 0.01g
FZ-3000iWP 3200g x 0.01g
Tangent News
We are excited to announce that as of January 2022, Tangent Labs is now a Transcat company!