Equipment Sales
Testimonials
"I am pleased to recommend Tangent Labs LLC to anyone in need of a highly professional and competent ISO-17025 registered firm. We have found Tangent to be a valuable partner and resource in our ongoing requirement to operate a QMS with reliable measurement data.
We have found their people to be highly competent and personable, their help- with metrology issues always available, and their pricing reasonable for the value provided.
After calibration activity is concluded, the QMS relies on the reports of that activity. Tangent Labs excels in this matter.; Their color reports are clear, accurate, and a joy to read for anyone concerned with measurement uncertainty and IM&TE status. This ISO-17025 certified lab also adds value-added service by making those reports accessible to us on their website in a secure manner. It is a very nice feeling to have this "back-up status" when we undergo our annual ISO/TS 16949 audit.
In the event we are in need of equipment, we know we can rely on Tangent for help in selecting the right equipment for the right measurement to assure quality.
I strongly recommend Tangent Labs LLC to anyone in search of a customer-oriented, internationally certified, calibration services firm."
Joseph T. Druecker - Heartland Automotive LLC

A&D FZ-iWP Series Balance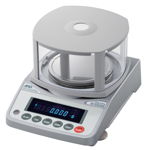 Internal Calibration

IP65 Water proof/Dust Proof

Compact SHS (Super Hybrid Sensor) 1 Second Stabilization

Multiple Weighing Units (g, oz, lb, lb-oz, ozt, ct, mom, dwt, GN, tl, tol, mes, pcs, % and MLT)

SCF-Statistical Calculation Function Quick USB Interface (FXi-02)

Standard RS-232C Interface

Comparator Function

LAN-Ethernet Interface (FXi-08) with WINCT-Plus Software

5 Year Warranty

Model
FZ-120iWP 122g x 0.001g
FZ-200iWP 220g x 0.001g
FZ-300iWP 320g x 0.001g
FZ-1200iWP 1220g x 0.01g
FZ-2000iWP 2200g x 0.01g
FZ-3000iWP 3200g x 0.01g
Tangent News
We have a new never used (or opened) Western MCLA High Pressure Reserve Medical Manifold for sale...