Equipment Sales
Testimonials
"I would like to express to you that I believe your organization is one of the best I've ever worked with in providing quality service in a timely manner. Your employees are extremely professional and always willing to go above and beyond the call of duty to resolve any issues. Your staff is full of highly trained professionals and I'd like to personally say thank you for providing excellent service.
In closing I would just like to thank Tangent labs and its employees for providing exceptional service to Mossberg & Co. Quality Department. I would like to wish you good luck with your A2LA recertification but I'm sure you guys won't need it."
Bob Byers - Mossberg & Co.

A & D FC-i Series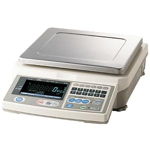 1/1 million internal resolution for FC-i models

Standard RS-232C (2nd & 3rd optional)

500 sets memory with alphanumeric product names/codes

4-line display for easy operator viewing

Rechargeable battery option

Remote Scale Option

2 Year Warranty

Model
FC-500Si 1 lb x .00005 lb
FC-5000Si 10 lb x 0.0005 lb
FC-1000i 2 lb x 0.0002 lb
FC-2000i 5 lb x 0.0005 lb
FC-5000i 10 lb x 0.001 lb
FC-10Ki 20 lb x 0.002 lb
FC-20Ki 50 lb x 0.005 lb
FC-50Ki 100 lb x 0.01 lb
Tangent News
We have a new never used (or opened) Western MCLA High Pressure Reserve Medical Manifold for sale...