Equipment Sales
Testimonials
"Thank you Tangent Labs!
I want to thank you for all the help and hanging in to get the job done. Even though you had to jump through hoops, everything came out great in the end. Thanks for your patience and help with all my questions."
Michael Jackson - Daicel Safety Systems America

A & D FC-i Series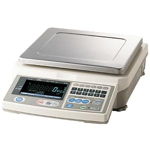 1/1 million internal resolution for FC-i models

Standard RS-232C (2nd & 3rd optional)

500 sets memory with alphanumeric product names/codes

4-line display for easy operator viewing

Rechargeable battery option

Remote Scale Option

2 Year Warranty

Model
FC-500Si 1 lb x .00005 lb
FC-5000Si 10 lb x 0.0005 lb
FC-1000i 2 lb x 0.0002 lb
FC-2000i 5 lb x 0.0005 lb
FC-5000i 10 lb x 0.001 lb
FC-10Ki 20 lb x 0.002 lb
FC-20Ki 50 lb x 0.005 lb
FC-50Ki 100 lb x 0.01 lb
Tangent News
We are excited to announce that as of January 2022, Tangent Labs is now a Transcat company!