Equipment Sales
Testimonials
"I just wanted to let you know that I was very impressed with your technicians today. They were very professional and polite. Thanks again!"
Alyssa Mahlke - Endocyte Inc.

A & D FC-i Series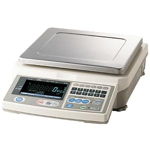 1/1 million internal resolution for FC-i models

Standard RS-232C (2nd & 3rd optional)

500 sets memory with alphanumeric product names/codes

4-line display for easy operator viewing

Rechargeable battery option

Remote Scale Option

2 Year Warranty

Model
FC-500Si 1 lb x .00005 lb
FC-5000Si 10 lb x 0.0005 lb
FC-1000i 2 lb x 0.0002 lb
FC-2000i 5 lb x 0.0005 lb
FC-5000i 10 lb x 0.001 lb
FC-10Ki 20 lb x 0.002 lb
FC-20Ki 50 lb x 0.005 lb
FC-50Ki 100 lb x 0.01 lb
Tangent News
We have a new never used (or opened) Western MCLA High Pressure Reserve Medical Manifold for sale...