Equipment Sales
Testimonials
"I would like to express my appreciation for the great job that you and the Tangent Labs team performed for Praxair Surface Technologies last month. We needed to have a calibration certificate for a VWR pipette before our audit. Your service was really professional and we are going to use Tangent Labs in the future."
Marina Berezhnev - Praxair Surface Technologies Inc.

A & D FC-i Series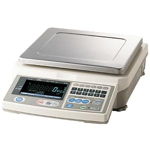 1/1 million internal resolution for FC-i models

Standard RS-232C (2nd & 3rd optional)

500 sets memory with alphanumeric product names/codes

4-line display for easy operator viewing

Rechargeable battery option

Remote Scale Option

2 Year Warranty

Model
FC-500Si 1 lb x .00005 lb
FC-5000Si 10 lb x 0.0005 lb
FC-1000i 2 lb x 0.0002 lb
FC-2000i 5 lb x 0.0005 lb
FC-5000i 10 lb x 0.001 lb
FC-10Ki 20 lb x 0.002 lb
FC-20Ki 50 lb x 0.005 lb
FC-50Ki 100 lb x 0.01 lb
Tangent News
We have a new never used (or opened) Western MCLA High Pressure Reserve Medical Manifold for sale...