Equipment Sales
Testimonials
"I just wanted to let you know that I was very impressed with your technicians today. They were very professional and polite. Thanks again!"
Alyssa Mahlke - Endocyte Inc.

A&D 4406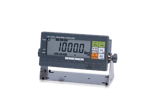 Product Features
Compact and portable

Operator selectable F1 & F2 Function Keys

Standard Table mount bracket

AC adapter or Battery operation

Tangent News
We have a new never used (or opened) Western MCLA High Pressure Reserve Medical Manifold for sale...